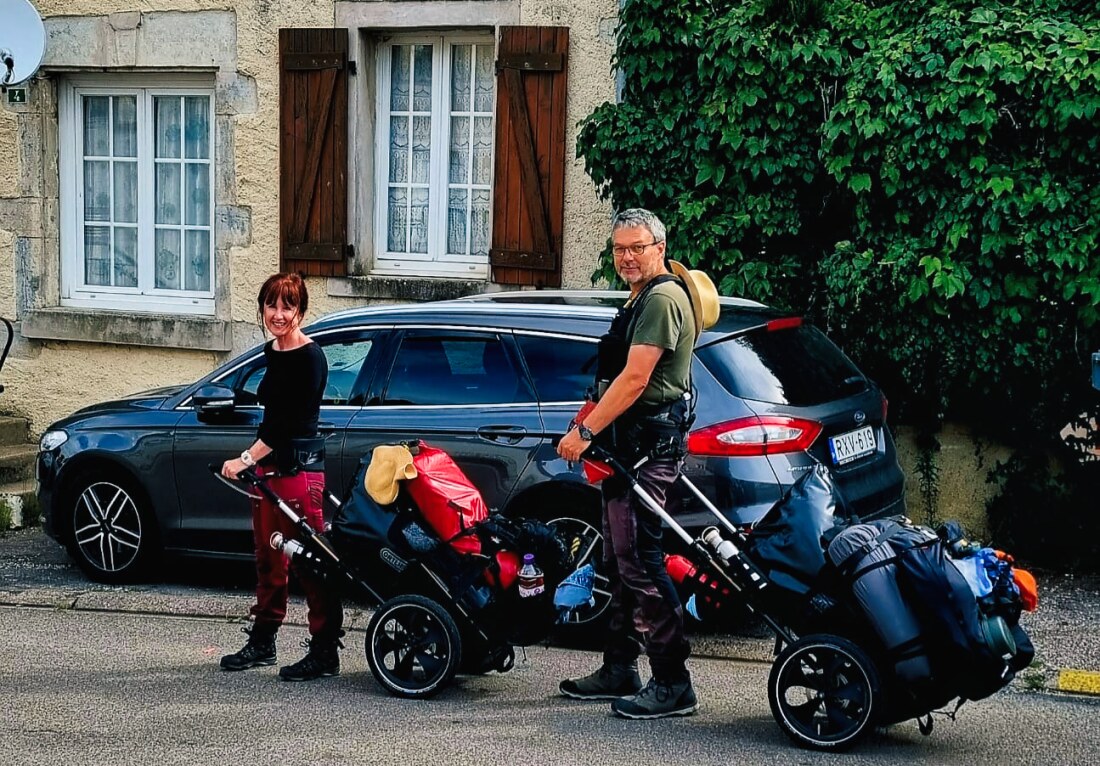 06 Jun

Yay, we are running again

The awakening in the hotel "Zum weißen Schaf" was after the beautiful evening, quite heavy. But it all helped nothing, breakfast was at 8:00 and there we are of course on time. The owner of the hotel spoke some German because he used to be a truck driver and did many tours to Germany. So also the breakfast became very funny. The wagons were packed and then came the hard moment of saying goodbye, because such friends you would like to take with you. A few hugs and photos later, we were back on the road.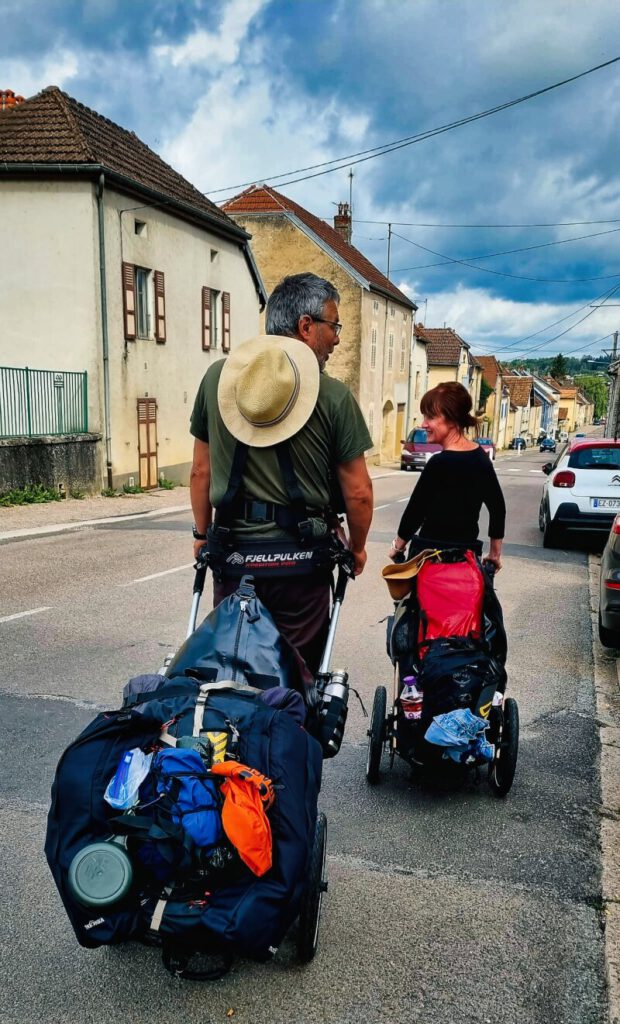 A nice feeling, but the many days of rest had left a noticeable hole in my condition. We were grateful that today only 17 km were on the schedule. The destination was a camping naturalle, that is, a meadow where it is allowed to camp, but WC, water and other amenities are rarely available. So something like legal wild camping. The weather was quite humid, but the landscape was beautiful again and so the 17 km with a few breaks were no problem.
According to the app, the natural campground came after the next left turn, the first thing we saw was a mowed meadow with parked cars. Then, on another lawn across the street, a sort of large food truck and in front of it covered tables and chairs. A few teenagers rode past us on rattling mopeds and parked their mopeds next to the cars. Our first thought "Oh God, this natural campground doesn't exist anymore."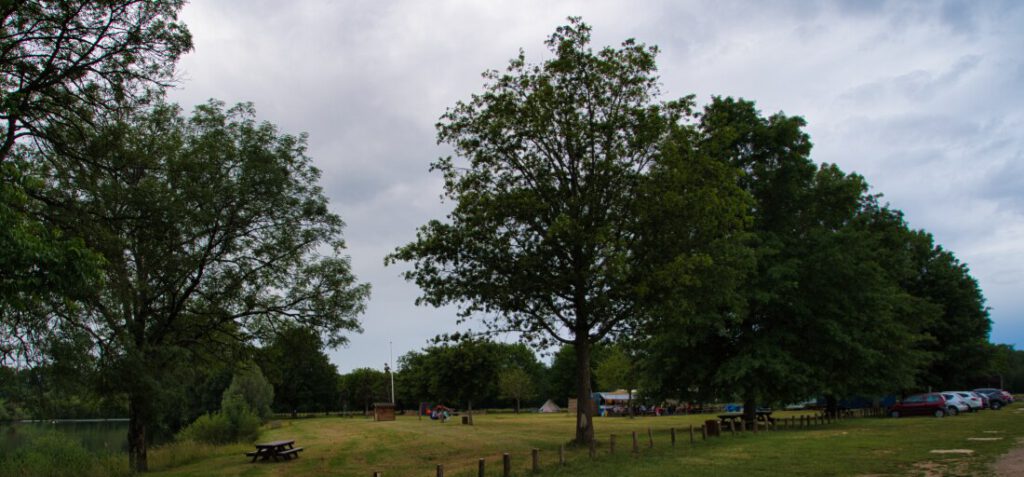 Skeptically we passed by what we saw, and lo and behold a sign with the inscription "Aire Naturelle Camping" appeared a little behind the snack bar. Another sign said to check in at the restaurant before setting up. It was a meadow where there was a large tipi, a slightly smaller tipi and a black box with 4 doors. Another sign said that you can rent these tipis and the smaller of the two costs 30 €. That's when Johanna's eyes shone, because even though she had made some peace with camping at the last campground, an alternative was always welcome, so we rented the teepee for one night.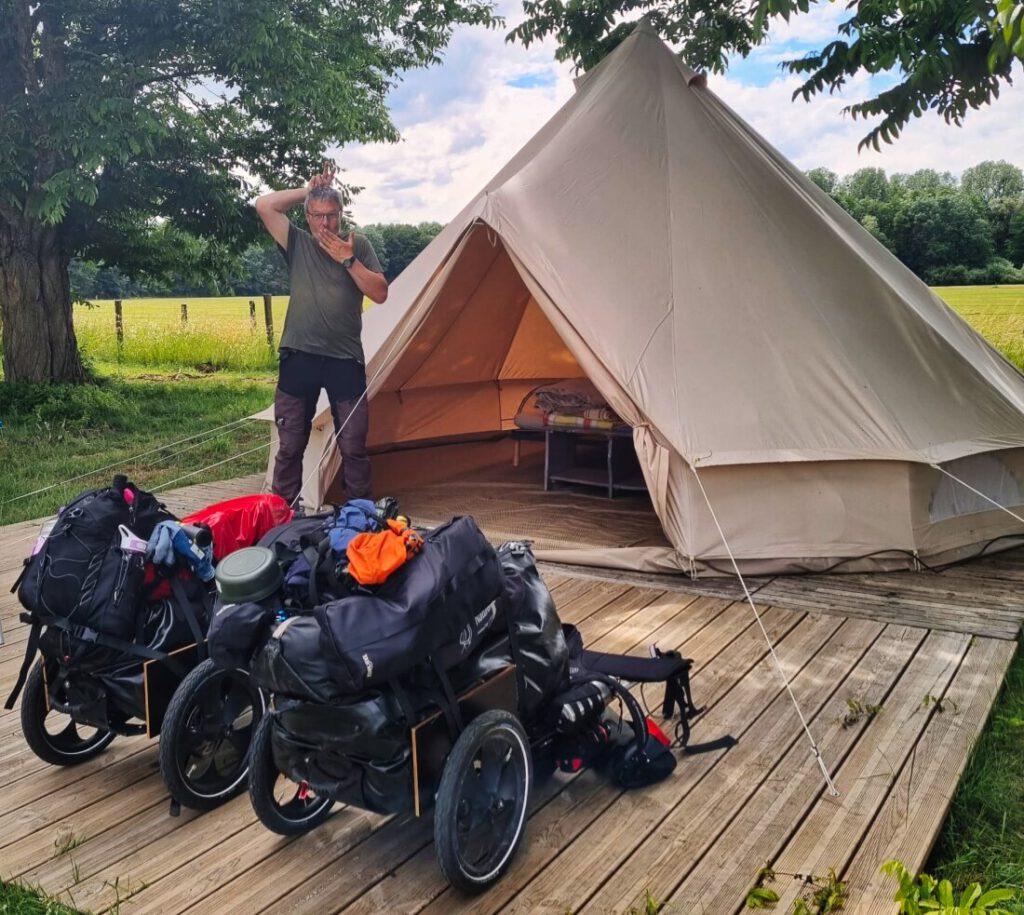 We moved in and then explored this meadow arrangement, which seemed bizarre to us at first glance, and realized this was the outdoor pool, sort of. There was a lawn where two women were rolling around and children were splashing in the Saone. An elderly gentleman also swam his lanes from one shore to the other. We were pleased that it was not a local folk festival and thus had the prospect of a quiet night.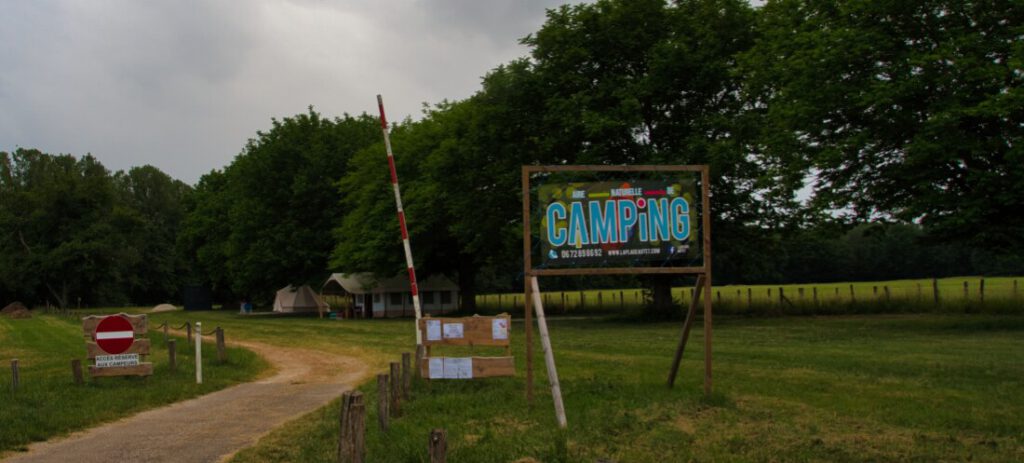 Today was also a special day, because originally Johanna wanted to go back home with our friends. Because getting on and off trains with the heavy car is pretty tricky and going back by car would have been the easiest way to get back home. But Johanna decided to come along for another four weeks or so. Because she had done so many things in the last few weeks that she never thought she would be able to do. She has overcome many fears and gone beyond many of her limits that she now wants to find out what else she can do and enjoy the rest of her time as consciously as possible. I was very happy and thankful for this decision and we celebrated it with vegetarian burgers at the snack restaurant.