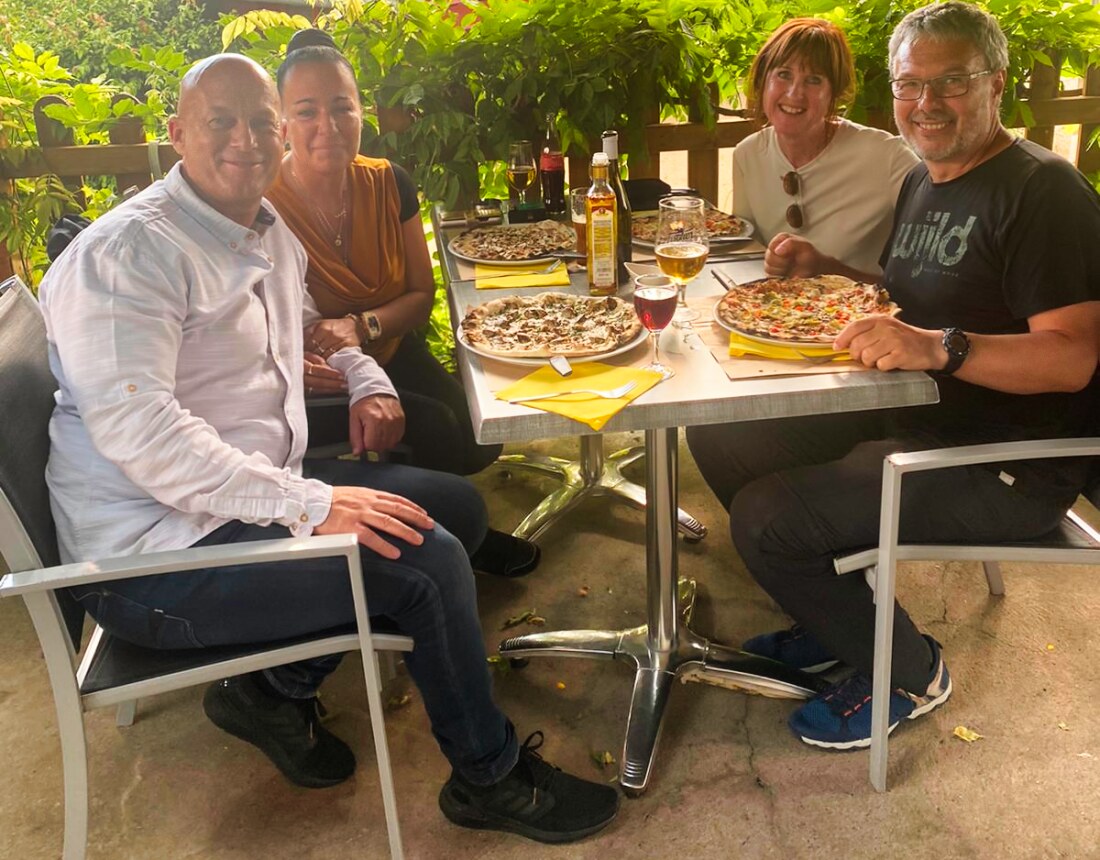 30 May

Unexpected rest days

Got up, morning toilet, tent dismantled, everything packed and off we went. First a kilometer in the opposite direction to the supermarket and then to the bakery. A totally friendly baker sold us a baguette, me an eclair and Johanna a big chocolatey brown ball. In front of the bakery, Johanna watched a cyclist arrive with a paper cup of coffee. I asked her where she got it and since she was German, she was able to explain very clearly that it was from the bar three houses down. So I got us coffee to go from a bar while Johanne loaded the baguette with cheese. So there was on the sidewalk, in front of the bakery, standing, one of the best tasting breakfasts ever for me. The atmosphere, the cheese baguette, the coffee and especially the ECLAIR. Simply ingenious! So the following 12 km were not difficult and ran almost by themselves. During a break Johanna unpacked the approx. 10 cm large chocolate ball purchased at the bakery and it was also delicious, although extremely sweet, but something we had not eaten before in the way. It was a meringue in a fluffy, soft, crumbly consistency. The ball was split in half and glued back together with a 5mm layer of nut nougat. Pure energy, which we would have needed better the day before.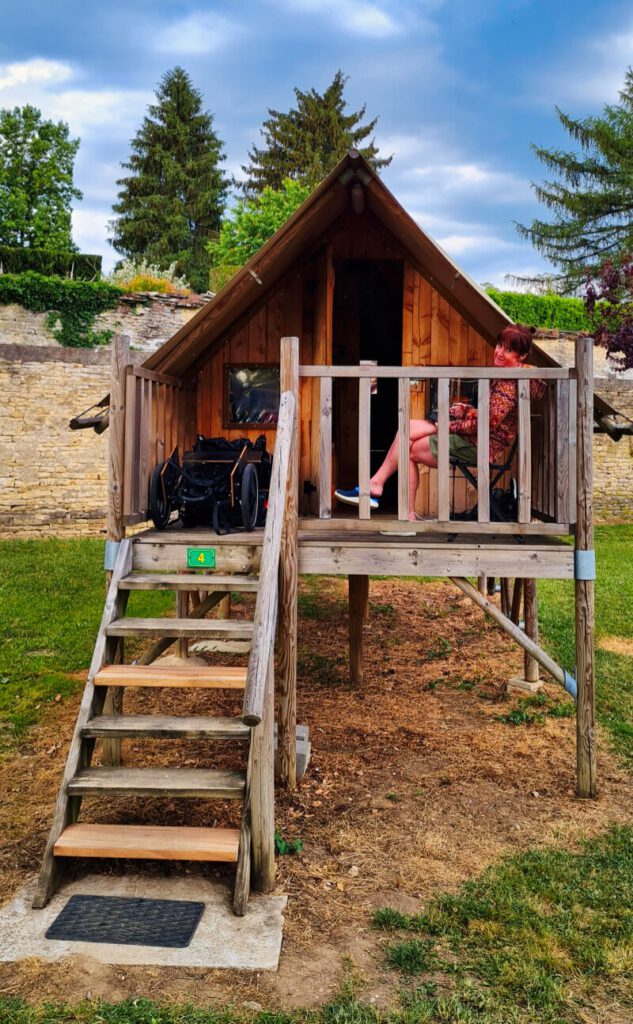 By far the friendliest campground receptionist welcomed us in Scey sur Saone. She too spoke only French, but with much laughter and physical effort we once again rented a permanent accommodation for two days. A cute little stilt house with a canvas roof and a view of the Saone, beautiful. Considering that we have also paid 24 € per night for camping, the 20 € for the cottage was more than fair.
Now it was time to research and plan, because Heike and Ingo wanted to visit us. Yes, the Heike with the big car, from the second block post "First awakening". These two are really rad friends, because they take all the way just to see us. LOVE THANKS!
At first we didn't really know where to meet them, because running is not something you can plan very well. In addition, we had forgotten a minor detail, the planned date was the Pentecost weekend, and in France, too, people love holidays. After quite a long search I found another hotel with free rooms, which we could reach without any problems. The problem was, the hotel was only 23 km away from us. Geographically perfect, because it was exactly in the middle of our next running stage and this running stage was a problem for us until then, because it was 40 km to the next campground. So now it was perfectly divided. The tricky part was the short distance considering we had 6 days left. So we decided to book our cottage for four more nights.

But, there was still Pentecost, and so the cottage was only two more nights for us bookable, the remaining two nights we just have to spend in the tent. And that's exactly what we did. We explored the town, the harbor, raided the supermarket every day and met Alice and Lens, a warm friendly couple from the Netherlands. They spontaneously invited us for one, two, three, many glasses of wine and we had great conversations. I love to learn how people's lives work, or have worked, in other places.
In our cottage we had gas hotplates and even a refrigerator. We were also finally able to clean our laundry using a washing machine. This time passed very quickly and exactly on the day we had to get out of the cottage, the sun said "Don't feel like it right now!" And it started to rain, but fortunately not for long. As the sun shone so fervently, we sweatily wondered which was better, fresh rain or hot sun. But even here we were lucky, because right next to our tent, was a solid, spacious shelter with table, chairs, refrigerator and microwave. There was shade and protected, with comfortable posture from the rain. So also this day passed quite unspectacular, this said goodbye late in the evening still with rain and thunderstorms.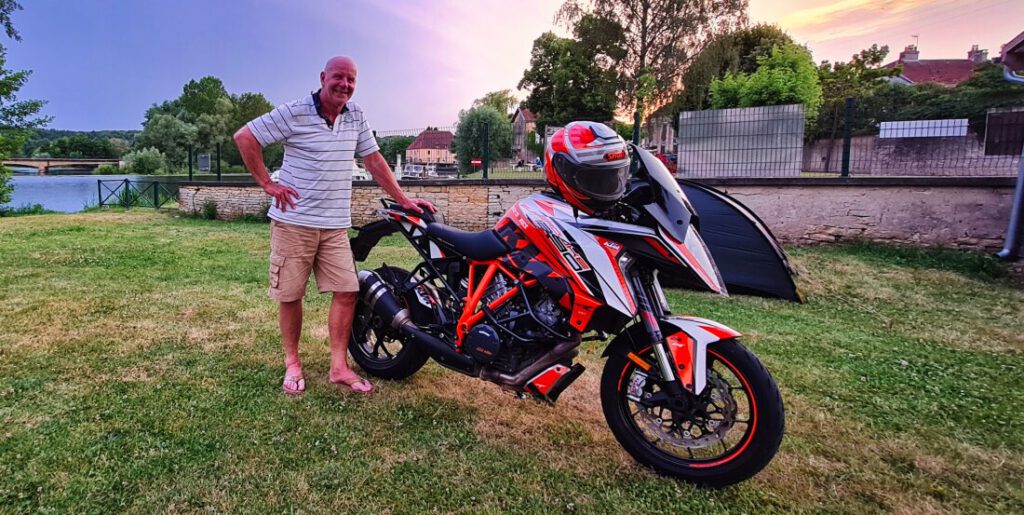 The last day of waiting began with bright sunshine, a fresh baguette and an eclair from the bakery and of course a great cup of coffee. Then the day bobbed along a bit, only to come crashing down again. Ron came on a 1290cc KTM, set up his tent next to us and interesting conversations began again. About his journey, his block, his whiskey instaprofile and meanwhile, Alice and Lens came by and invited us for a few more glasses of wine and great conversation. After the wine and conversation, it turned out to be a lovely evening with Ron.
With the expectation of an announced thunderstorm, we crawled into the tent. Weather lights offered us a great light show, both of which I quickly fell asleep to. At night around 3:00 am we were rudely awakened, it was as if someone was shaking the tent and the shaking troublemaker was the wind. Since I, because of the storm warning, had checked before again all pegs and retightened the lines, I was reassured and had the camper standing in the neighborhood not retracted his awning, because he had already scraped one in a storm, I would have fallen asleep again. But the hypnotic drumming of the onset of rain made for quick sleep.
The next morning the sun quickly dried away the traces of the night. Ron packed his seven things and then made himself a cup of coffee. Then Johanna and I were amazed, because he had a small, electric, foldable, kettle with him. How cool was that, because when you're at a campground, you always find a bag full of electricity, like in the washroom. Of course, dear Ron also boiled the coffee water for us. I love my MSR Dragonfly (gasoline stove), but it's a bit more convenient with a kettle like this. Ron said goodbye and rode off on his bike.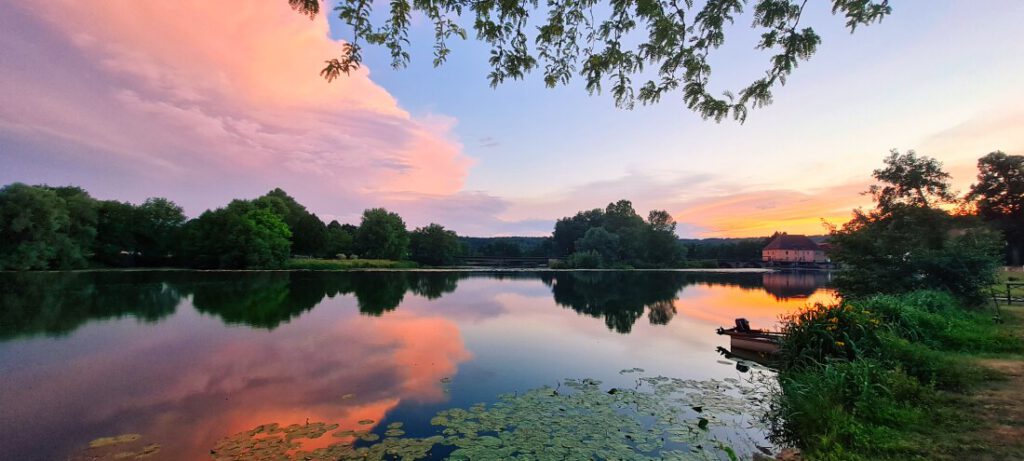 Today was the day of days. The day for which we spent 6 nights at the campsite in Scey sur Savone. The day Heike and Ingo came to visit us. And they did, they even had another surprise. Because after spending a night in Nancy, they came directly to the campground and picked us up one by one. Thus we saved the planned 20 km run, because it became a rainy day. But dear readers, just imagine that they drive 500 km just to see us, just to spend a nice evening with us. We both still can't believe what great people these two are. They even paid for everything from the food to the hotel and didn't want us to get involved. A big goosebumps THANK YOU! Since their visit was announced, we had the chance to order some things on the internet, which they brought us. For me, these were mainly two side pockets. Not to lug around more Krims stuff, but to better distribute my luggage. This allowed my small backpack to disappear into the large pannier, and the things you need to get to quickly successfully took up space in the side pockets. Suddenly Heike asked if we wanted coffee, because she had brought goodies from Nancy's bakeries. But what she then pulled out of her pocket to boil water left us speechless. It was a collapsible kettle like the one Ron used the day before. When she noticed our unobtrusive amazement, she gave us the part and we were already almost bursting with happiness and the goodies.
This day turned out to be awesome, fun and most of all unforgettable!