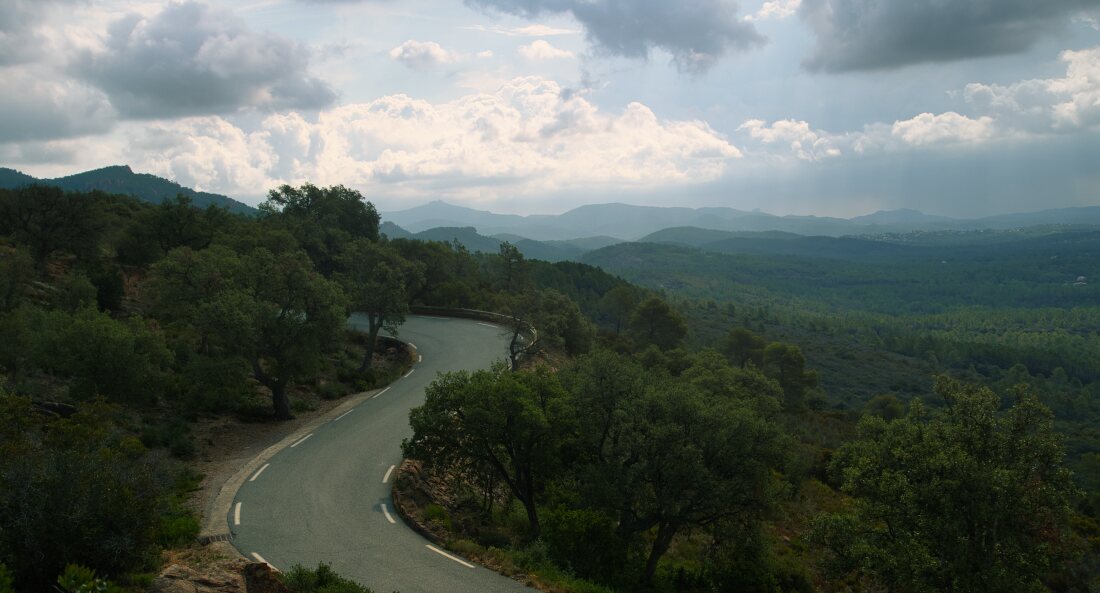 02 Sep

Tourrettes

Rested, I got up earlier than usual and was back on the road around 8:30. Thanks to yesterday's effort, today was "only" 25 km on the list and at the end waits a campsite with shower, electricity and neighboring supermarket, I thought so running to me. Actually, I could have guessed it, because yesterday it was already foreshadowed. I am in the mountains, the landscape in which I have been walking for the last few days was surrounded by imposing mountains and that is exactly where I was now, in the middle of it. It went neatly up and down. The day started with a gnarly several kilometer climb and was rewarded with breathtaking views. Never in my dreams would I have thought of finding something like that here in Provence. Then it went downhill again, only to go uphill again afterwards. The streets were figuratively beautiful, but they were also very narrow and an inconceivable number of artificial flowers, inscriptions and other expressions of mourning pointed out the danger. The landscape reminded me of our last Spain vacation in Andalusia, cork oak forests, pine trees, the mountains, rocks and villages high above.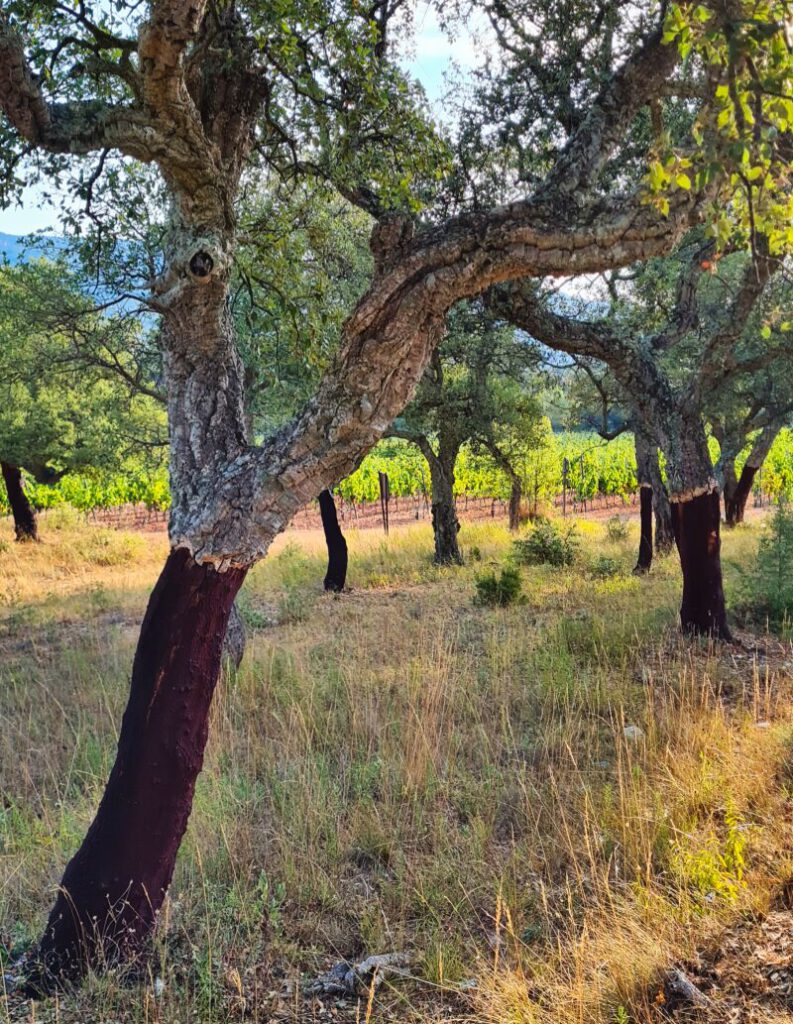 Everything was beautiful, only the walking with all the luggage was enormously exhausting. The narrow roads demanded a high level of attention and the many switchbacks required frequent changes of sides so that one could be seen by the traffic as best as possible. Of course, going downhill also took a lot of strength, less in the legs, but more in the arms.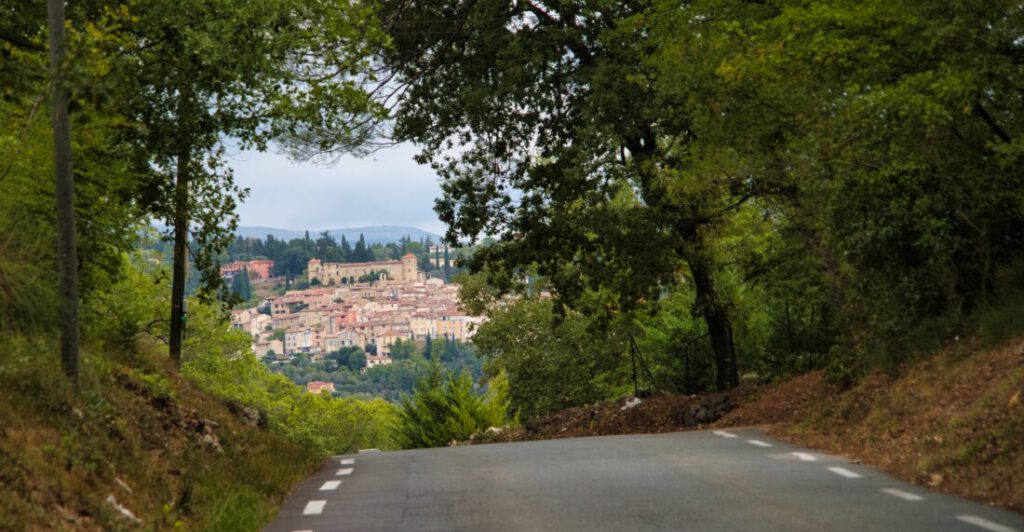 The 25 km had it all, in every respect, they were beautiful and at the same time also tough as nails. But at some point they were also behind me. Not quite a kilometer to go, the path ran through a non-existent gate and everything felt like private property. I saw in the app that if I continue up this narrow highway, another road also leads up to the campground. But stoically I followed the suggested path of the app. It was another steep uphill, on a dirt road, then there were houses, it felt like I was walking through their gardens, past the swimming pool and another steep paragraph up. Then it was so far only a few meters to cross a road and suddenly I was in front of a locked gate and could not get on the road to cross. A quick shake and I headed back down the super narrow expressway until the longed-for turnoff came. This one was paved, but is one of the steepest roads I've walked on my way so far. I struggled up and was soon standing in front of the locked gate behind which I had stood some time ago and got nowhere. Now I came further, one more curve and there I stood again in front of a closed gate. Behind him was an absolutely deserted, yet well-kept campground.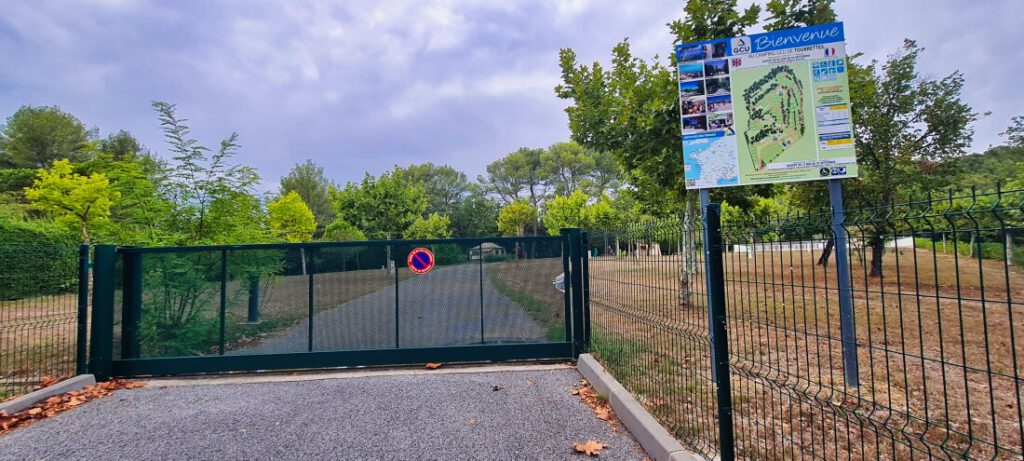 I sat down on the curb and had to realize, here I should have read better. Because here you have to register via the Internet, then someone comes by and unlocks the door. This I then also learned, from a very friendly motorcyclist stopping next to me. Uncertain, I asked him if the other campsite around here exists? After answering this question in the affirmative, I was also on my way. Once there, I was happy to see that they had a place for me. I was also happy that I had withdrawn money from the ATM yesterday, because I ended up in probably the only place in France where you couldn't pay with a card. And I was pleased about the incredibly friendly interaction with each other. It seemed as if the people in the mobile homes, lived here longer, because in the reception mailboxes were created, whose contents were also constantly collected. I was also happy to have a day of rest, because the next day thunderstorms and rain were predicted. So first the pure joy!