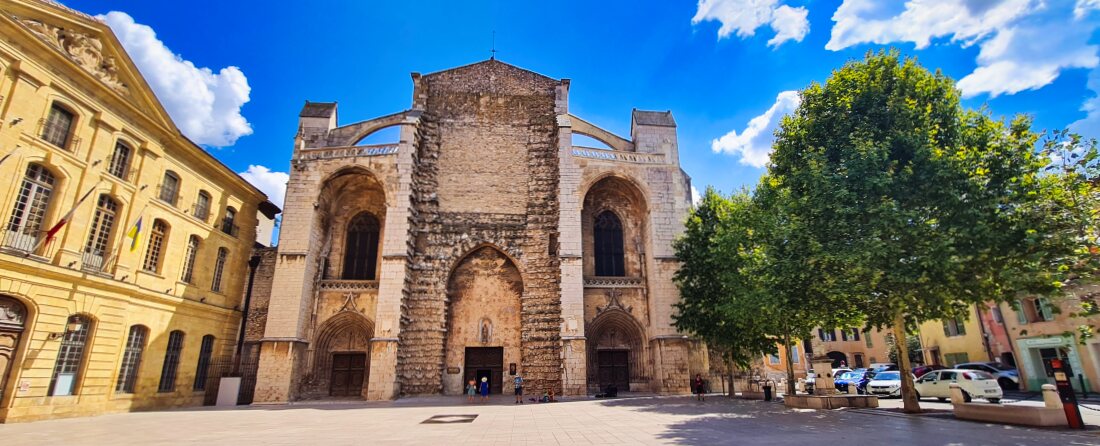 27 Aug

The tomb of Mary Magdalene

Cocky, I ran along the expressway straight to the supermarket, cutting 1.5 km short. At the same time, I thought to myself, why should I go around it today, when I had already walked on it for so long yesterday. It was still relatively early, so about 10:00 clock and therefore not too busy on the street. So I arrived unharmed, craving for food at the "Hyper U". In addition to a few sweet drinks, a Mediterranean tomato and bell pepper paste, a cheese cream and a dark bread, I also bought a delicious chickpea salad with tomatoes, onions and lots of herbs. After its immediate consumption, thinking of Johanna and my blood values, I felt healthy and balanced nutrition.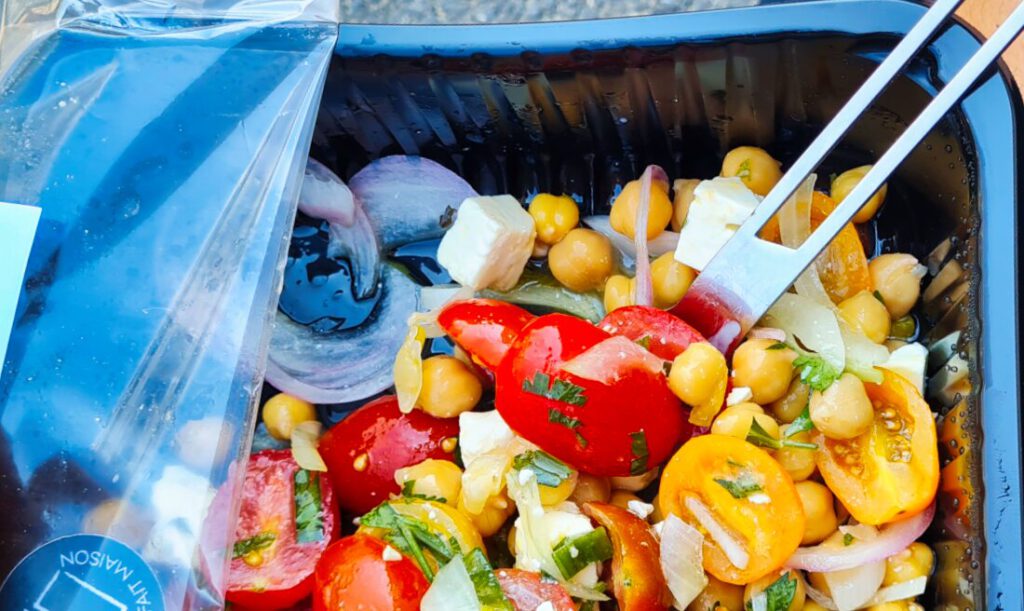 Then came the exciting moment, actually I don't care about sights. For me, the life of the people and nature is worth seeing enough. But, while I'm here and tata it was a church, a basilica, which I already liked for its complex simplicity. Okay, a church, I've already passed a few. But this one had piqued my interest, because all around it, everything seemed to revolve around it, souvenir stores, restaurants, and people from all the glory lands. I walked closer, parked my car at the side entrance and walked to the main entrance to read the writing on the gold plaque "TOMBEAU DE SAINTE MARIE MADELEINE" What? Really? Crass!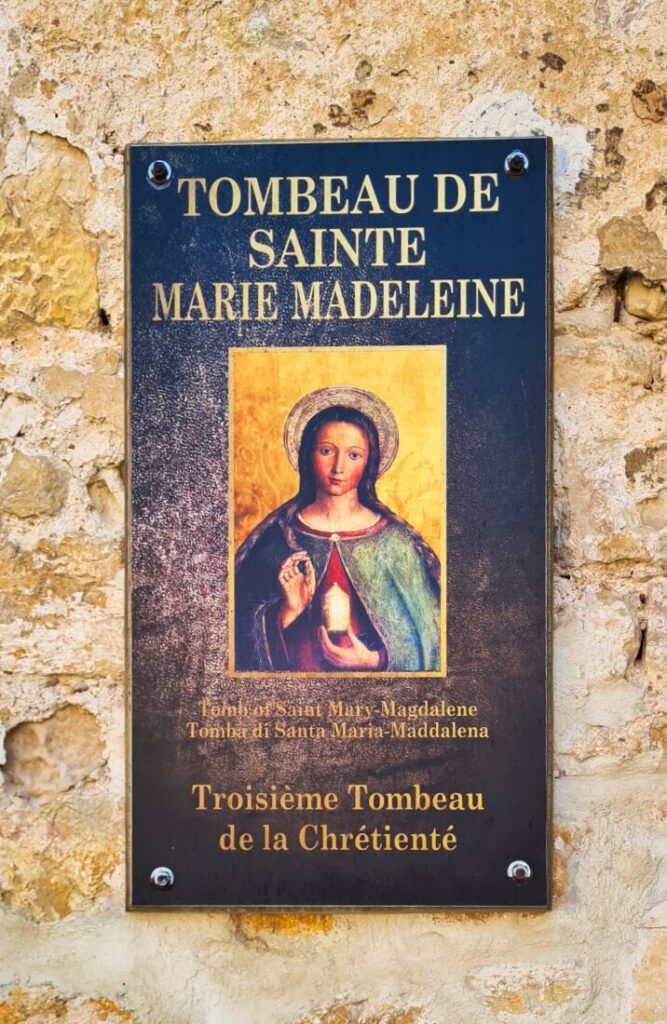 It was really one of the two official resting places of St. Mary Magdalene, well at least relics of her are said to lie here. Relics of the woman who supported Jesus, followed him, saw his crucifixion and to whom Jesus appeared so that she could proclaim the resurrection. Jesus gives such an important mission to a woman, and the church ignores that and all other women until today. A feminine side would do her good, a lot of mischief would have been spared to the world… but would have, would have bicycle chain!
I am not a Christian, yet I grew up in the Christian culture, with its festivals, customs, prayers, values and stories. I was impressed! I was grateful to have chosen this detour! I was touched! As icing on the cake, hanging in the tomb was a relief that is considered the world's first depiction of Jesus with the three holy kings and dates back to the 6th century. Since I walked there, I am now officially a pilgrim, at least that's what they thought of me there.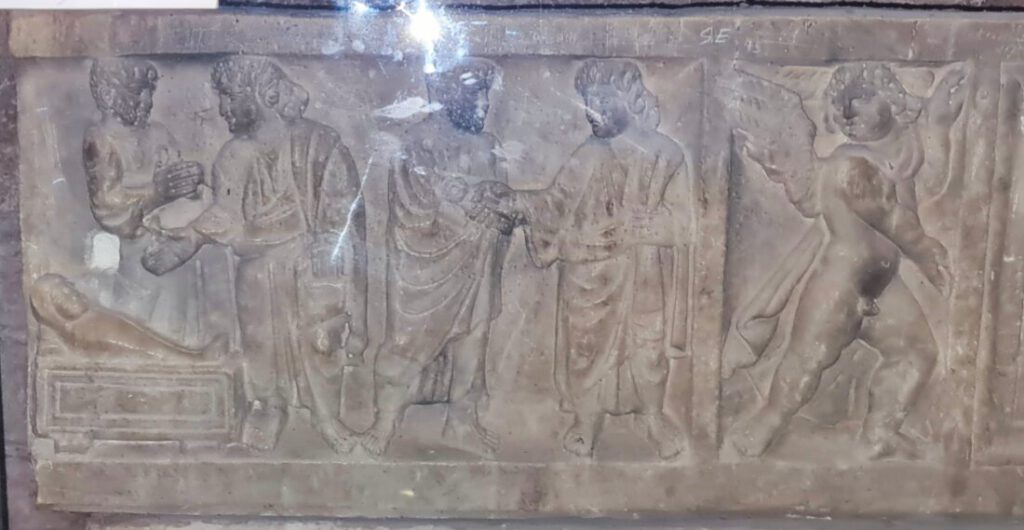 Impressed, I continued my pilgrimage, I was still at the beginning of my running route today. The thought of what I had just seen accompanied me for a very long time that day and literally carried me across the streets. These narrowed, I entered a mountain range and thick clouds piled up in the sky. The thought of rain washed Maria's away for now, but no, it hadn't rained in so long and bam it started. Of course, on a stretch where there was no shelter, where the trees were behind a large ditch.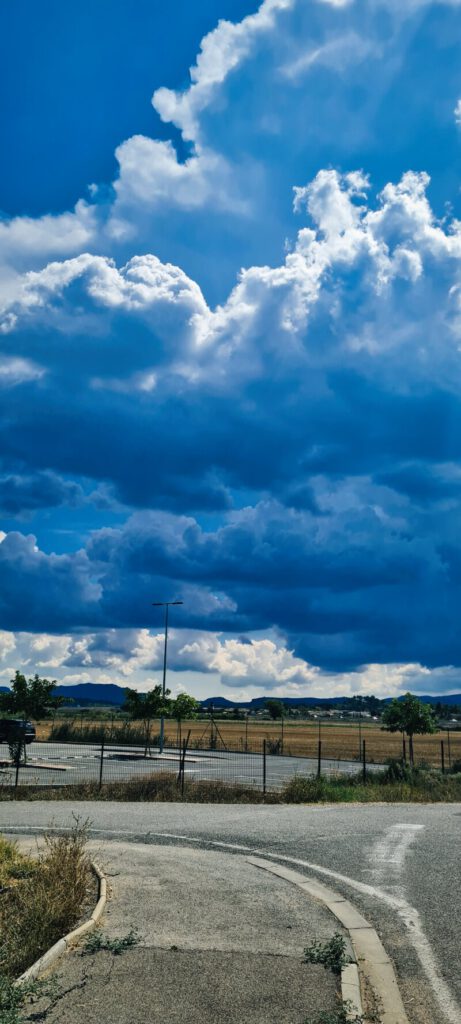 As best I could, I covered my car and fanny pack and walked on, soaked to the briefs, showering, in the rain until it subsided and I came to the edge of a place where there was a sports complex with a bus stop shelter. I made myself comfortable there, wrung out my T-shirt, grinning when I noticed that the white sweat marks had been washed out, ate something and watched the goings-on on the sports field. Men in jerseys, there is automatically the image of the soccer tournament in the head, but it was a boulder tournament. I was sitting too far away to follow it with any excitement. I tried to find out in which direction the clouds were moving and made two miserably unsuccessful takeoff attempts until it finally stopped raining after 1 1/2 hours. Well tempered I trudged ahead and noticed that the rain had also flooded my shoes. I felt how the skin on my feet could not dry and how everything began to chafe. But what the heck, I had to move on. It continued to look like rain, but it stayed dry. But suddenly there was lightning and thunder, but what the heck, I had to go on. It was not far to the place I had chosen in the forest, then I noticed a flash, I did not see it directly, it was behind me. But automatically, as with every flash, I began to count one, Zw-BRRCHFF! Humbly, I moved on quickly; there was no suitable place where I could have gone to safety. The thunderstorm moved away, but it was heard. About a kilometer before the place of my choice came a rest area. A rest area on a country road, how awesome was that? I did not like to sleep in the forest in this weather as well as so, so I decided to stay here.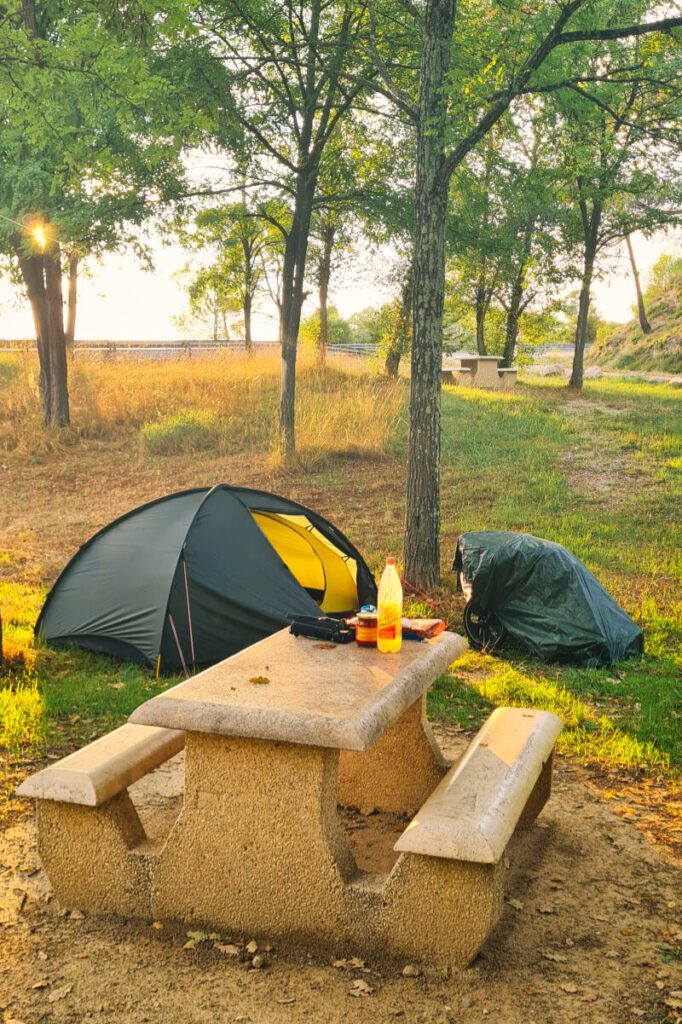 I sat down on one of the benches and waited for about an hour. I saw that from the Rastpaltz there were two exits to private properties, with mailboxes and bells and such. Anyway, it's thunderstorming. I had heard that in France it is forbidden to "camp" on rest areas – It thunders, never mind! No one came by. So I thought about how I want to sleep tonight, hammock or still in the tent. The tent won, because to the hammock, I would have had to build up additionally the Tarp and if me then, the night someone shoos away, the tent dismantling is nevertheless substantially simpler. So I put up the tent and just as I finished, a car came. An older gentleman got out, disposed of his trash in the bins provided, got into his car and drove past me, the tent and the covered car. I got ready to greet him in a friendly manner, but the gentleman stoically, grimly looked straight ahead and drove away. "Great!" I thought "surely he's informing someone, but anyway, if I have to leave I have to leave and until then I'll try to sleep!"
Just when I had made myself comfortable in the tent, a car came, stopped close to the tent, someone got out, walked around. I couldn't stand it, opened the tent and only saw how, someone got into the pickup and drove into one of the private driveways. "Oh great!" thought I "that's it, but anyway, if I have to leave I have to leave and until then I'll try to sleep!"
Some time later the same car drove out of the property again and drove away. That's it now really!" I thought "he gets the gendarmerie, but no matter, if I have to go away I have to go away and until then I try to sleep!
At night another motorcyclist came, but he stopped only for a short pee break and so around 3:00 the dogs in the area started barking at each other from hill to hill.