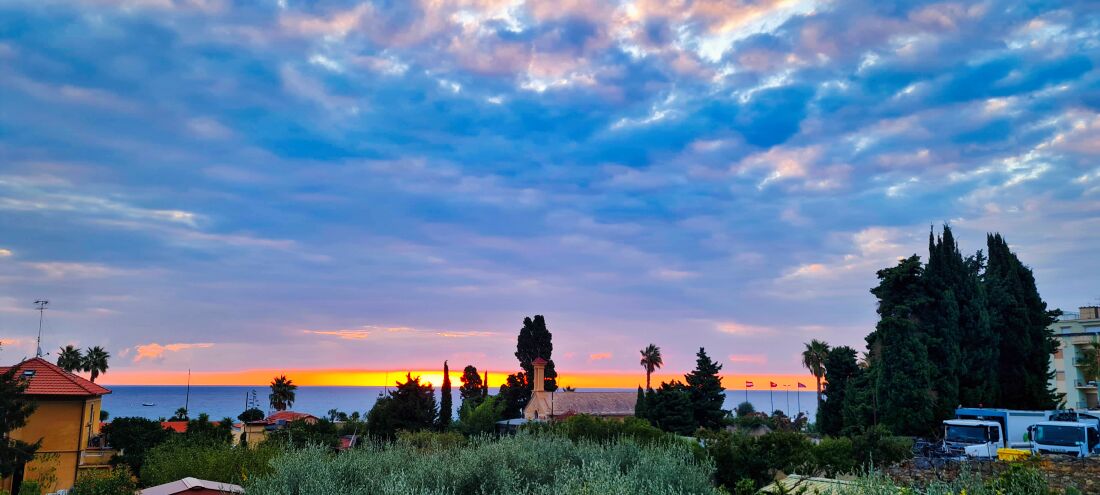 20 Sep

Laiguelia, Borgio, Savona

It cost me more and more effort to become aware of my happiness, to enjoy the remaining time. I could still drag everything out, but my nature ticks just a little strange. Once I know the ending, it's not what I originally wanted. It is only the way to the bus station. I still ran over fanatastic paths, through dreamlike landscapes and met great people. Externally, everything was as I could not have imagined better. But inside I was torn, I couldn't enjoy it because I couldn't stay in the moment. I saw the sun, the sea, the mountains, but asked myself, how do I get to Germany, what do I do there, how do we go on, do we manage another trip, what should it look like, then I saw the sea again. Very often tears ran without really crying. The stone that pressed on my stomach became heavier. Again and again I recalled my absolute favorite saying "A man's happiness depends on the nature of his thoughts". (Marcus Aurelius 2000 years ago) With this knowledge and the confidence that this is so, I was not able to enjoy the moment mindfully in the here and now, but I could think positively, making plans for the future. Whether I keep reminding myself of my shattered dream and what I'm not experiencing now, or think about what another great journey might look like, is up to me. No matter how hard it is, it is solely my decision! Along the way, some lightness and joy also returned: "A person's happiness depends on the nature of his thoughts."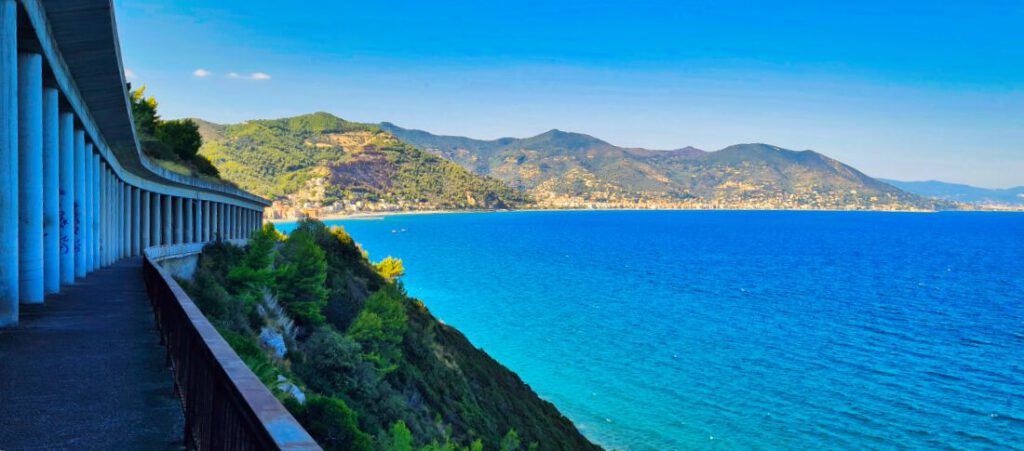 With this introduction, I would like to apologize for the following ragged record of the last days of my trip, which does not do justice to what I experienced.
On the way to Laiguelia, a bike traveler approached me. To whom my appearance with the car made curious. He was a few years older than me, made his own pilgrimage by bike, came from Scotland and was called Tom Jones, which is supposed to be a very common name in Scotland.
To the campsite it meant again to throw myself with all body effort into the straps, because this was somewhat elevated above the sea, not as high as the last, but enough to have to fight me panting and sweating forward. The place was idyllic, terraces covered with fine nets where little bunnies hopped and pooped and SEA VIEW. I still strolled through the little town and stayed for one night.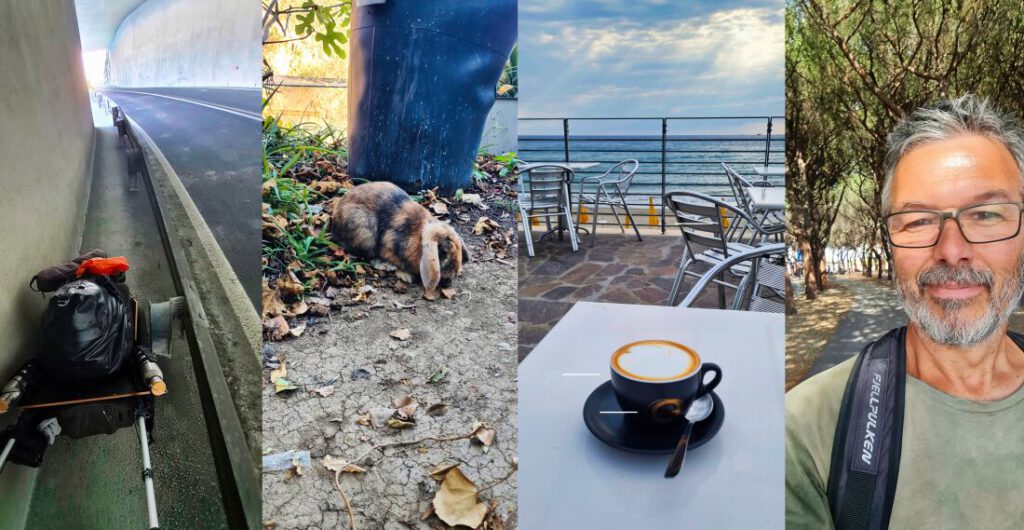 On the way to Borgio, I treated myself to a breakfast cappuchino at a beach bar and later a lunch ice cream. The weather became more autumnal, the temperatures became super pleasant, the wind stormy and thick clouds decorated the sky. The road to the campground, was definitely one of the top 5 on my trip. Despite the much lighter luggage, I had to take countless breaks, for which, however, the view from the campsite, every single meter compensated.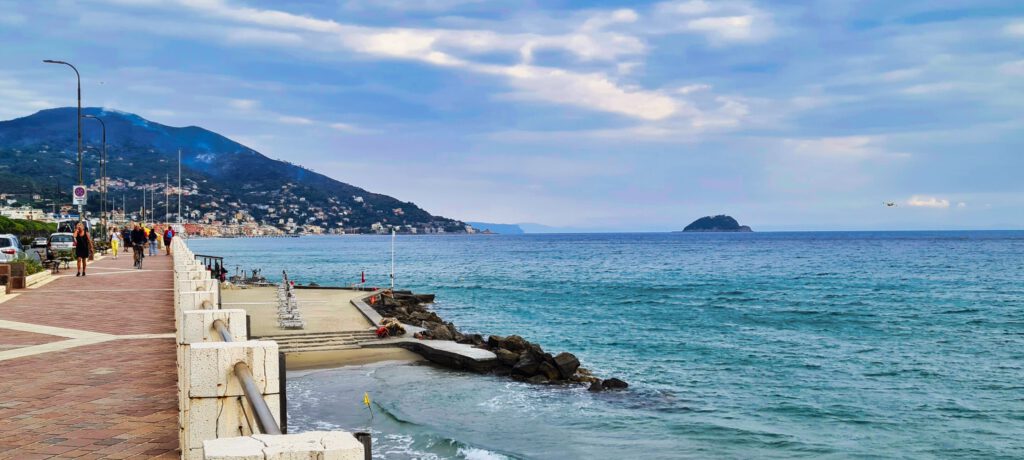 Then we went to Savona, as the days before along the beautiful Ligurian Mediterranean coast. I heard a hum and saw a yellow plane in the distance over the sea, it seemed to be making circles. I got closer and closer and noticed that there were two planes circling in strange curves. Then I could see the entire trajectory and understood the dramatic seriousness of their flights. While one of the two planes flew directly at sea level, it filled with water and then climbed ponderously toward the sky. During this time, the other unloaded its extinguishing cargo steaming over a hillside whose forest was on fire. So both circled tirelessly for hours. Later, a helicopter with a huge water bag on a long rope came to the rescue. Perhaps it was due to my nervous tension, I was in tears, I felt sorry for the forest and inwardly I thanked these pilots.
Later, when I talked to locals about the fire, I learned that this kind of thing probably happens often. Fires are set there to preserve buildable land, as logging is strictly forbidden.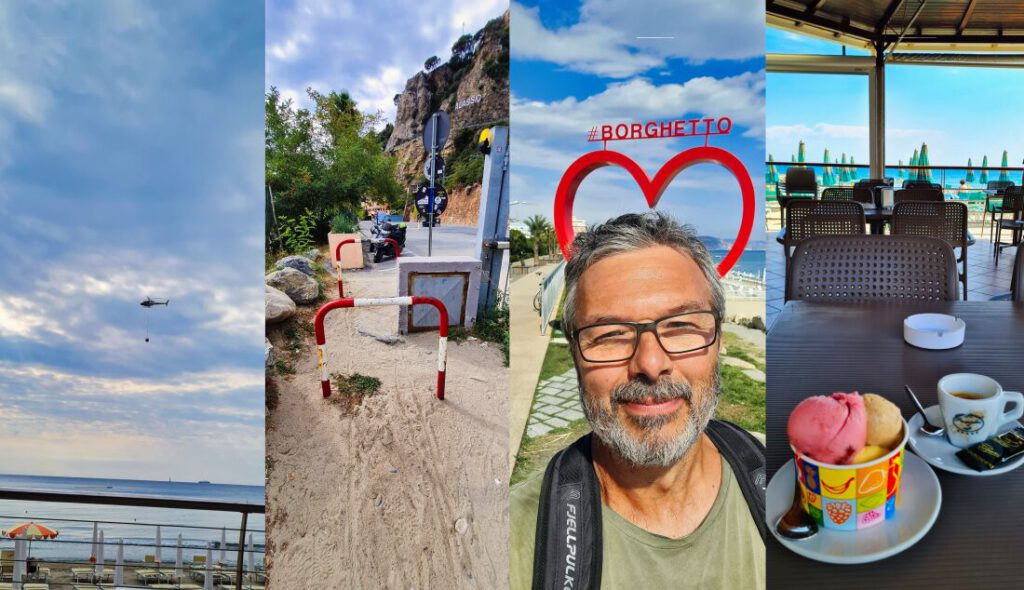 The campsite in Savona is located directly on the sea, never before was my tent so close to the sea and always I had wished. There was no more suitable place to finally end my dream. The last few days I had been thinking a lot about what to do next. At first I wanted to dive into social media to build something of my own, but this is something very long term, without guarantee and to be able to travel quickly, I need money. The problem that probably most people face, whether it's for a trip, a car, or for bare survival. The only sure way I could think of was to take a job. Something I thought I didn't have to do anymore, because I actually wanted to build something up along the way, but I had underestimated running then. So I remembered the words of the management when I said goodbye to my old job "Frank, you can knock on our door any time you come back." A sentence that pleased me at that time, because I liked working there very much and I understood this sentence as a great appreciation. Well, I thought, asking once is okay. Even though I said goodbye forever then and feel pretty stupid knocking there again as a boomerang, but false pride doesn't pay for my new journey. First, I looked on the website to see if there was a suitable job for me, because they wouldn't hire me again just out of love, and it had to be a job I was confident in, because I knew the company's standards. My old job was no longer available, but in fact something similar was being sought and an e-mail was written and sent. Getting my act together, it felt like an egg dance, proud and broken, hopefully it will work out, hopefully I'll be able to do it. I haven't told my wife about all this yet. Immediately I got an answer, the request for a phone call in the evening. Excited, I sat down in the evening at the campsite bar, the only place with WiFi, drank something and waited. It took a little longer than expected and started to freeze, I was really shivering from the cold, chilled out, then the doorbell rang. It was a load off my mind to hear the positive news. THANK YOU i22 Digitalagentur GmbH and THANK YOU Nina! I put on a jacket, took a bottle of Italian beer and sat down on a boulder. Excited, full of joy and gratitude, I looked at the completely black sea, whose wave beat against the boulder and wetted me from time to time. The lively, illuminated coast of Savona was reflected in the black waves. I thanked, new doubts came, hopefully I meet the requirements. But that evening I was just grateful and happy again for a long time without having to make it consciously. I sat there for two hours, staring into the darkness and daydreaming happily, proudly and full of a new spirit of optimism.