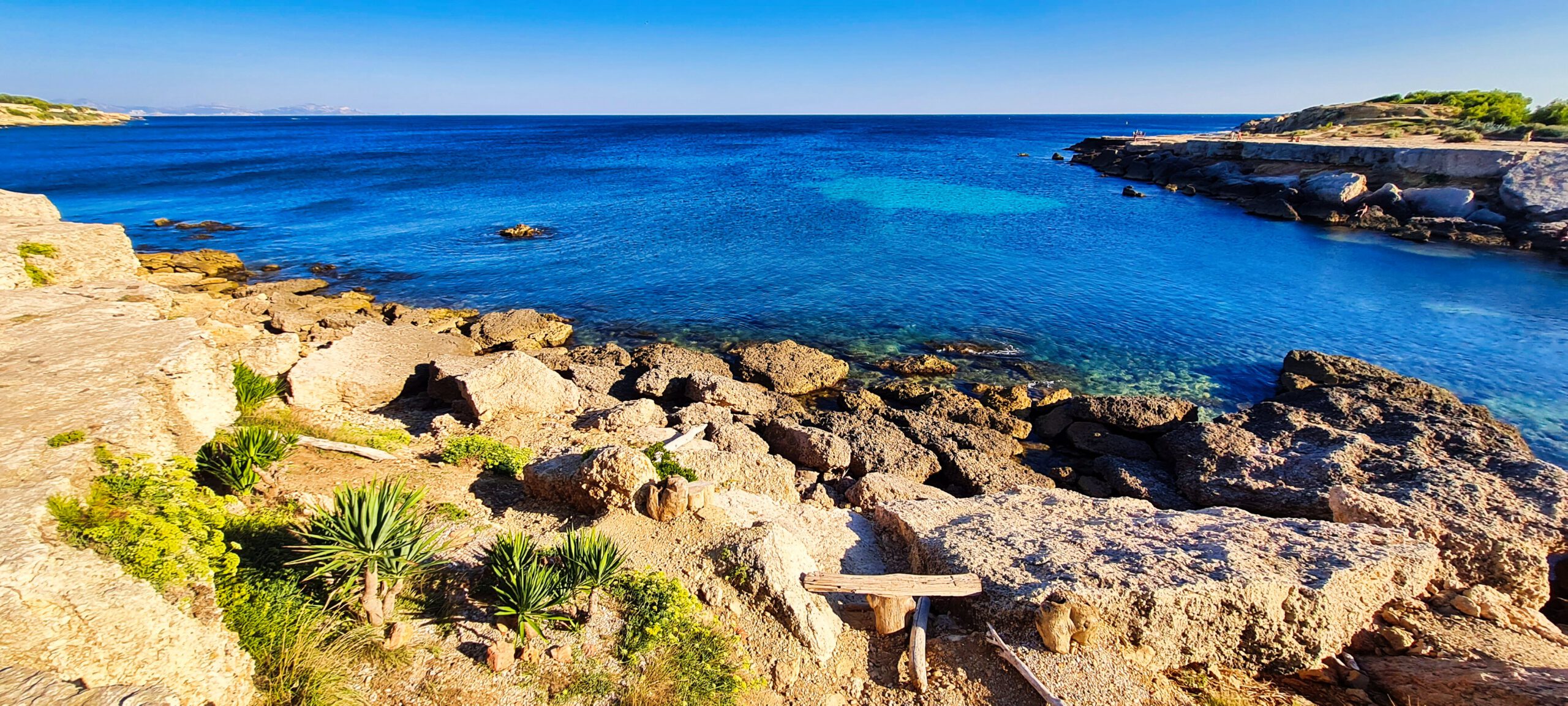 17 Aug

I need some time

After setting up the tent and buying 3 large bottles of drinks at the mini-market, I fell into my chair and all the emotions rolled over, as if they were fighting over wanting to have this incredibly beautiful view to themselves. Tears literally streamed to the sea, doubts intruded, exhaustion spread and fatigue dampened all my perceptions. Only happiness, which I should have been bursting with at that moment, was hiding somewhere in the farthest corner. My head knew that I should be happy now, but my eyes, body and especially my heart wouldn't let me.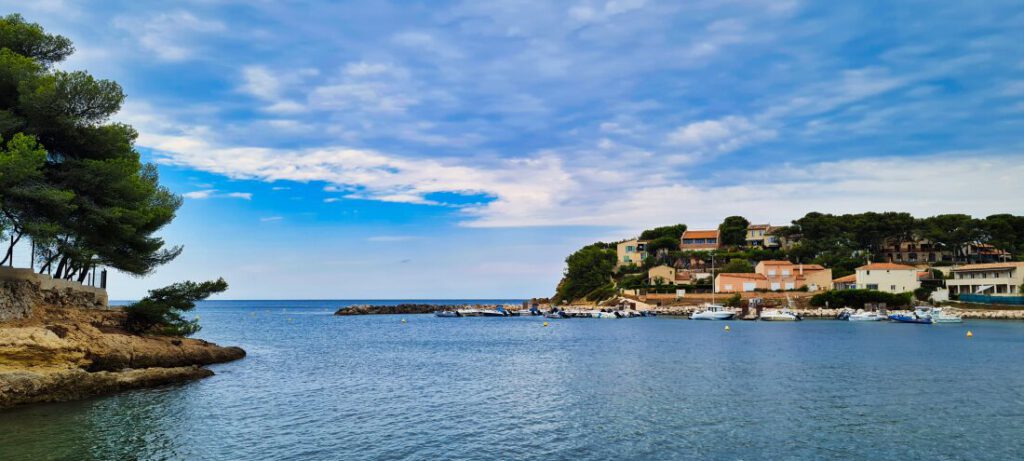 It was already dark and I was lying on the sleeping pad, ready to wander into the land of dreams, when the impulse ran through me to take a look at the weather app. Annoyed, I did so and saw rain and lightning for tonight. That's when I remembered the warning from the receptionist. So I peeled back out, covered the car with a tarp, and tied everything down. Back in the tent, I fell right off the sleeping pad into the land of dreams. Until sometime during the night someone shook the tent very hard, letting pebbles trickle out of the tent and turning on the light outside. I had never experienced such a storm! The tent was jerked back and forth, sometimes remaining in a deformed posture for a minute and then continuing its extatic dance. For about an hour the sky was brightly lit with lightning and the rain made a hell of a racket in the tent. "Great!" Thought I "I NEED SLEEP!!!" Then the entrance came off the peg and took the extatic dance to a new level. Everything that was in the awning was suddenly out in the open and within seconds pitsch wet. I quickly cleared those muddy, wet things like hiking boots, socks, food into the sacred interior of the tent and let the entrance have its fun. Now the lack of sleep played its advantages and let me, despite the doomsday scenario peacefully fall asleep.
The first activity the next morning, was a walk around the tent. This inventory showed that two more tent attachment points had come loose from the peg. These I fastened again and attached still another 5 pegs, used thereby each fastening point available to me, because the wind had not raged out for a long time yet. When I maltreated the pegs with a stone, a very nice French gentleman from the neighboring tent came and gave me a hammer.
Actually, I wanted to stay one night, rearrange my things and leave immediately. But I quickly realized that something was wrong with me. Moping is absolutely not my style, but that's exactly what I did. Okay, I was still very tired, especially I was sad because I missed Johanna, but there was more, something that I could not name. That's when I remembered Rikke's words "If you ever stop enjoying running, stay in one place and figure out why." Rikke was the Danish girl I met at a campground some time ago, who has been running around the world for three years. I followed this advice and decided not to go on until I was clear in my head again. Although it is mega expensive here, but paradisiacal beautiful, the right place to recharge your batteries, find ideas and gather.
The further way was unclear, the motivation was gone, the time when I would roam the world together with Johanna again was not tangible. These things had to be resolved somehow.
In the afternoon I scouted out a route I planned to take with the car when I started from here. Even though it turned out to be insane to go this way with the car. Because it was a steep, narrow, stair-infested, beautiful panoramic coastal path, so I felt how good this movement, this air, these views, this little adventure did. A hint of joy, a little touch of happiness came up, only in my head, but some changes take time and have to grow.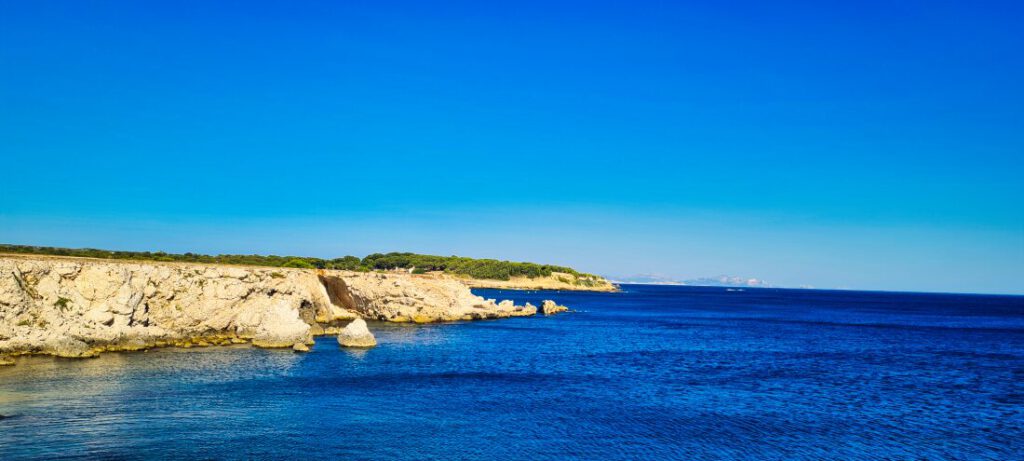 The next day I wanted to repack my things and try again to sort things out. It was a challenge because the wind was still having a lot of fun. I spread out the tarp, weighted it down with four large rocks, and enthusiastically cleared everything out, only to put it back in exactly the same way, fully depressed, as in all previous attempts. I know I have way too much stuff with me, yet I don't know what can go.
After yesterday's walk, I knew I had to exercise. So I went a round in the opposite direction along the sea. It was fantastic, stunningly beautiful, small bays, steep cliffs, steep banks crumbling from erosion and every view a fairytale panorama in which you want to linger. I could even see Marseille in the distance.
Slowly the clarity in the head and the motivation return, I realize how good it does to stay in this place. Now I finally want to think of Johanna again with joy and happiness instead of sadness, but that will probably take some time. The joint journey is also taking shape again, but there is still a long way to go. We have to find something to earn money on the road and it's not that easy. Social media, can make it happen, but it's not a short-term thing. From the beginning, I actually wanted to take you along on the journey on youtube as well, but so far the journey had taken too much out of me. But from the day I leave here, I will also film and then publish it, hopefully more regularly than before the blog.
Johanna and I are also working on a book about our journey on foot to the Mediterranean. Maybe we will open a kind of travel fund here, a Paypal account, where you can support us. I have a hard time with that, it seems like begging, which I never wanted. What do you think about it? Do you have any ideas on how we could continue our journey together? Please write us your opinion, here in the comments or via Instagram or an e-mail to info@latefire.eu.