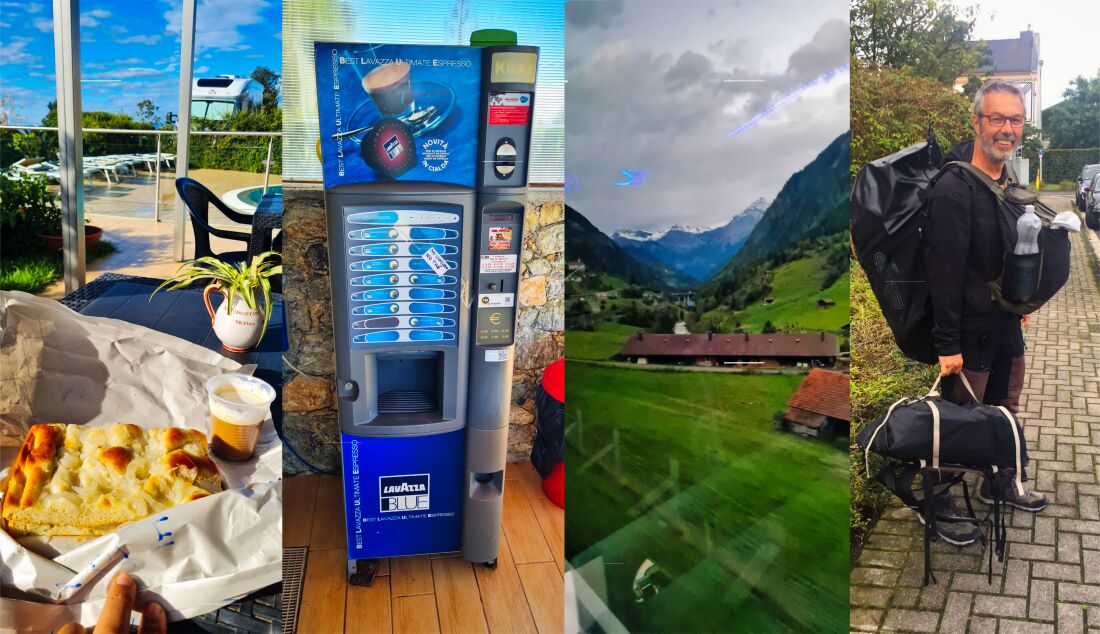 27 Sep

The end

4:15 in the morning my cell phone alarm clock rang. I didn't press snooze like I used to, I got up right away. Not in my right mind, but well programmed, I worked through all the necessary steps to get to the station on time. First the morning toilet, then pack the things, dismantle everything and put it in the bags. This was probably the most exciting moment, because since I had not tested and tried it beforehand due to my usual laziness, I could only hope that everything fit into the bags and was reasonably wearable. Slowly I worked off step by concentrated step and eventually only my large travel bag, my Ortlieb backpack and my beloved super light Decathlon backpack were packed full in front of me. Next to it was a garbage bag and a bag of delicious focaccias, which I got the day before. I took the two bags, disposed of the trash and sat down on the stock dark terrace in front of the reception. Pulled a coffee from the vending machine and had my last breakfast of the trip. It was dark and quiet, everyone was asleep, while I was fighting tears, trying to strengthen myself. I took my time, it was important to me to grasp and savor this moment, as painful as it was.

Then it went off, the large travel bag I took, like a backpack on the back. The Ortliebrucksack I strapped over my shoulders to the front, so to speak a belly bag and the backpack from Decathlon I carried in my hand. It was crassly heavy, the straps from the belly bag slipped constantly and the straps from the travel bag pressed hard. But what the heck, I had enough time to take a few breaks. It went downhill, it went well until I was at the expected stairs. Sparsely lit, wet, slippery, narrow, misshapen and steep, the steps lay before me. Concentrated, almost in walking meditation mode, I took step after step. It was clear to me that one wrong step, one brief moment of inattention and it would be mega painful. Unharmed, I reached the road that led me further down to the sea. At the sea, I took a deep breath while staring into the endless darkness from which a strong, soothing breeze was blowing towards me, and enjoyed the soothing rumbling sound of the waves. Still plenty of 3 km lay ahead of me to the station and I noticed already how my legs burned, the weight of the bags and the stairs were not without consequences. If there's one thing this trip has taught me, it's that you just have to walk mindlessly step by step and you'll get everywhere. That's exactly what I did, enjoying experiencing the little place in the dark and awakening. What I found great was that some of the little cafe bars were already open and people who were going to work were treating themselves to an overly good tasting espresso there.

At the station, I struggled up the steps to the track, plopped down on a bench, and observed the surroundings. The first thing I noticed was that I must have been participating in factory traffic, there were many people and students waiting with me. The second thing I registered and immediately found totally annoying was that when an announcement announced a train passing, a shrill, loud bell would sound, which only stopped ringing shrilly and loudly when the train had passed, which could take minutes, felt eternities. The third was that the passing trains shot through the station with full thump, old butterfly, it shakes you even sitting on the bench through. Then came what must come to me sometime early. The express train from Darmstadt announced itself to me. The sweat of the exhausting way had long since evaporated, now beads of fear sweat crept out of the pores. I saw the station restroom, it was right across the track, as if in mockery. I was willing to leave my luggage alone to relieve myself, but a fat iron chain held the double doors together and a sign attached to it boastfully displayed many Italian words, of which I could only read the word "Covid" and rhymed the rest together. It has its good not to sink into melancholy and sadness but I can truly imagine a better distraction than horror scenarios, because change of clothes I had of course not planned. The longed-for train came, we got on and the first thing I saw was a woman still in the station going to the toilet, when she came back out I literally stormed the place of relief and found salvation.

The train went along the sea and went through several tunnels, I saw the landscape, the mountains, the sea, the forests, the people and kept asking myself if I was doing the right thing?

In Genoa I left the station so that my cell phone had GPS reception again and I could get my bearings. Previously, I had put a marker in the app at the point from where the Flixbus to Milan was supposed to leave. I expected a bus station or a bus stop or something similar, but found there only a normal main road, here and there people were waiting and at the very back was a Flixbus, but when I approached it started to move. So I went to the people and asked through, so really no one knew what, how and where. So I just stood with a group, a few of whom also wanted to go to Milan. You just have to trust and not go crazy, the wait was worth it, two Flixbuses came, after a few times back and forth I sat in the bus to Milan, enjoying the view and the comfortable way to travel.

When we pulled into the destination station in Milan, I saw stark things, unbelievable poverty, lots of homeless people, and there was a police operation going on. My connecting bus left from this station, only I still had to survive 4 whole hours there. It was exciting to watch the people, but it wasn't relaxing because I was watching my stuff like a guard dog. But this time also passed, I found the bus, got a seat and met interesting people. My seatmate was Italian, spoke perfect German and went to Hamburg in the hope of getting a place at university. A young man in the row of seats opposite, was a hiker and wants to walk from Germany to the Mediterranean. To do this, he used his vacation and so went in stages from year to year. This time he crossed the Alps, the guy was really crass, he had a daily workload of over 30 km and that in the Alps. It was super exciting, he showed me the places he walked as we drove by on the bus. It reminded me of when I was driving Johanna home and we kept seeing places we were. So I also learned that there are probably very many wild boars in the foothills of the Italian Alps, they may not be shot there. There are so many there that it is probably very dangerous to spend the night there wild.

When we entered Switzerland we had to show our passports and as it is, a super German is always there. I heard him discussing with the official why you need a passport in Europe, a driver's license will do. This passport control took about a quarter of an hour. At night around 2:00 we reached the other end of Switzerland and we were checked again. This time our passports were confiscated, taken away and it took more than an hour to get them back. We could drive on, only the gentleman with the driver's license was arrested for illegal entry and had to stay there. Why the other Swiss let him enter at all is only explained to me by greed for money, because the super-smart German has to pay a fat fine before he can go home again.

Right on time with the entry into Germany it started to rain heavily. Where I will get off, I did not know yet. The bus went to Düsseldorf, but also stopped in Bonn and at Cologne Airport. In Bonn, his destination was the Museum Mile, which was too inconvenient for me, so I chose Cologne Airport. That was the right decision, because quickly I was, in the middle of the early morning factory traffic, with the S-Bahn at the main station and from there the regional train took me to Euskirchen, from where my father-in-law thankfully brought me home by car.

I stepped into the apartment, my wife was at work, I was glad to get this day over with, but somehow everything felt strange.

Today I wanted to end this article necessarily, because today is the 31.12.2022 and meanwhile also already 18:40 clock. New Year's Eve is traditionally a day for me to reflect: Where do I stand? Do I want to be here? Where do I want to go? What do I have to do for this?

Well and these thoughts are totally crazy. I know it was the right decision to cut the trip short and go to my wife. But still, this trip was my life's dream and even though I'm in the middle of preparing a new trip, it won't be the same. On the one hand I am incredibly happy and grateful to have made this journey, on the other hand I am totally torn and sad inside about this ending.

I thank you very much for your interest and your support, if you want you can read here soon, how it continues.
Until then, I wish you all the love, many adventures of your own and especially health!