17 Jun

Gergy

In contrast to Johanna's anger towards me, her foot pain did not get better. Fortunately, it was "only" 10 km to the next campground in Gergy.

Johanna bit her way through and we reached Gergy. Again, the reception was in the restaurant, a young woman handled us and we could choose our own tent site cell. Of course, we took one with a view of the Saone. We set up, cleaned up, and went into the well-stocked restaurant to cool off from the inside once again. Johanna did that with cold drinks, I treated myself to an ice cream sundae and WOW, was the ice cream delicious!

We also visited the restaurant in the evening, as we had been forewarned that there would be live music in the evening. The restaurant filled up and the band made their appearance. A voice like Lous Amstrong sang well-known songs, which were verraeggyjazzt. Really good, a great evening.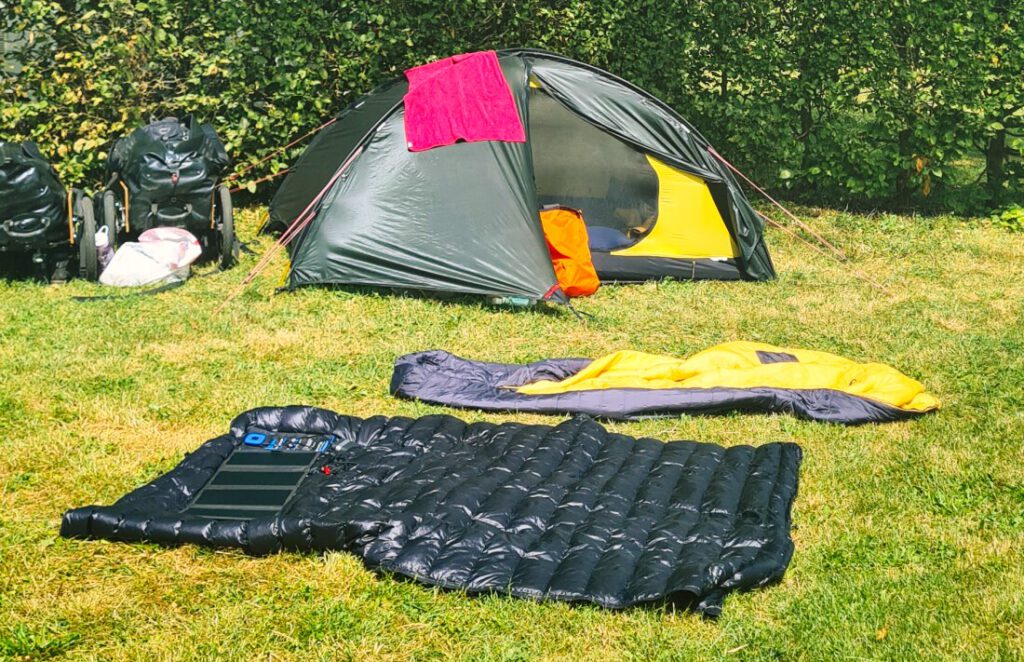 Because of Johanna's foot we also took a rest day here. Johanna kept her feet still and I explored the village. A church and a crossroads with mini supermarket, baker, butcher and of course a flower store. I raided the supermarket and obligatorily tried the Eclair from the Town. Somehow almost all bakers have the thing with the good cream in the eclair out, only the amount of dough, which holds the cream together differs, and here he was, for my taste definitely too thick.
After the eclaire analysis, we went back to the campground and then I took a bath in the Saone. After watching some kids do this from the tent, I had to do it too. A concrete walkway used for launching boats was misused for this purpose. What I didn't know, though, was that you slid on your feet for the last 5-6 meters. Wow was I glad I can ski and snowboard, so after the initial scare it was a lot of fun. The water was warm, full of fish and plants. The latter made swimming somewhat difficult. It was great, and now I was annoyed that I was not also in the Mosel Baden.